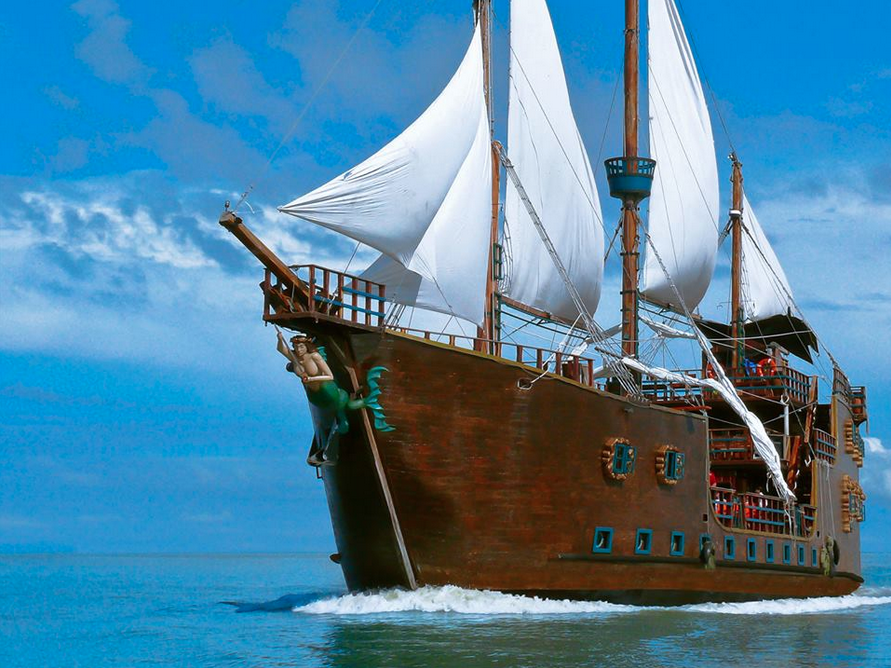 Captain Morgan is going to give you some amazing tips about how to have the best time in Cancun. You will be spoiled for choice in Mexico's favorite Caribbean destination.
1. Pirate Ship
It goes without saying that the Jolly Roger Pirate Ship show in Cancun should be top of Captain Morgan's list. Taking a tour of Cancun's incredible coastline by night and seeing the hotel strip light up in the distance is unbeatable. An amazing show of sword-fighting and betrayal awaits, as well as a tasty meal and as much as you can drink. Arrgghh matey!
2. Mayan Ruins
The most famous of the Mayan archeological sites is Chichen Itza about an hour and a half away from Cancun. This is an incredible sight to see. However, there are actually hundreds of Mayan ruins dotted around the whole Yucatan Peninsula including two small sites actually in Cancun, El Rey and El Meco. Tulum in the Sian Ka'an biosphere reserve is definitely worth a visit if you have time.
3. XCaret
There are very few organized tourist attractions that do such a great job as Xcaret. It makes a perfect family day out in an enclosed park where you can see animals, learn about the ancient Mayan way of life, wade through rivers and explore caves, eat delicious food and watch a spectacular show at the end of the day.
4. Islands
Based in Cancun, you are in a perfect location to take a short ferry ride to Isla Mujeres and explore the idyllic island that still retains it essential charm. The Island of Cozumel needs an early start but can also be seen in a day, taking the ferry from Playa del Carmen.
5. Cenotes
One of the distinctive features of the Yucatan Peninsula are the breathtaking cenotes that perforate the whole area. These cenotes are huge sink holes, like large wells, many of which can be entered for snorkeling and diving expeditions. Some, like the cenote at Chichenitza are too difficult to enter and are to be enjoyed for their visual charm.
6.Whale Shark Tour
From around May to September, whale sharks come to feed and mate around the shores of Cancun. A filter feeding shark, they pose no threat to humans despite their large size. Tours to see whale sharks are popular in Cancun and well worth the money if you visit Cancun during their season.
7.Golf
You have a choice of amazing golf courses in Cancun with a Nick Price designed Tournament Players Club (TPC Cancun), Playa Mujeres Golf Club, Riviera Cancun designed by Jack Nicklaus, Iberostar Cancun which is also home to Mayan ruins, El Rey and the beachside Cancun Golf Club at Pok-ta-Pok.
8. Nightlife
Even if nocturnal antics are not your style, it is worth taking at least one night out of your stay to get a sense of what Cancun's buzzing nightlife is all about. There are bars, live music venues and nightclubs for all ages of adults. The hotel zone is a great place to take a stroll and see what takes your fancy.
9. Diving or Snorkeling
Cancun and the surrounding areas is one of the best regions for diving in Mexico and considered by many one of the best sites in the world. Visibility is excellent and the water temperatures pleasant. There are underwater sculptures museums, coral reefs and sunken wrecks to enjoy.
10. Swimming with Dolphins
Swimming with dolphins is an experience you will never forget. There are a few parks that offer this amazing opportunity to touch and play with these incredible mammals and have your photo taken kissing one!
Comments
comments