Visiting Cancun on vacation is one of those experiences where you will find you simply don't have enough time to do all the incredible things on offer. With so many great attractions from live shows, pleasure cruises, Mayan ruin tours, Mexican nights, it is no wonder that Cancun is a destination you will want to visit more than once.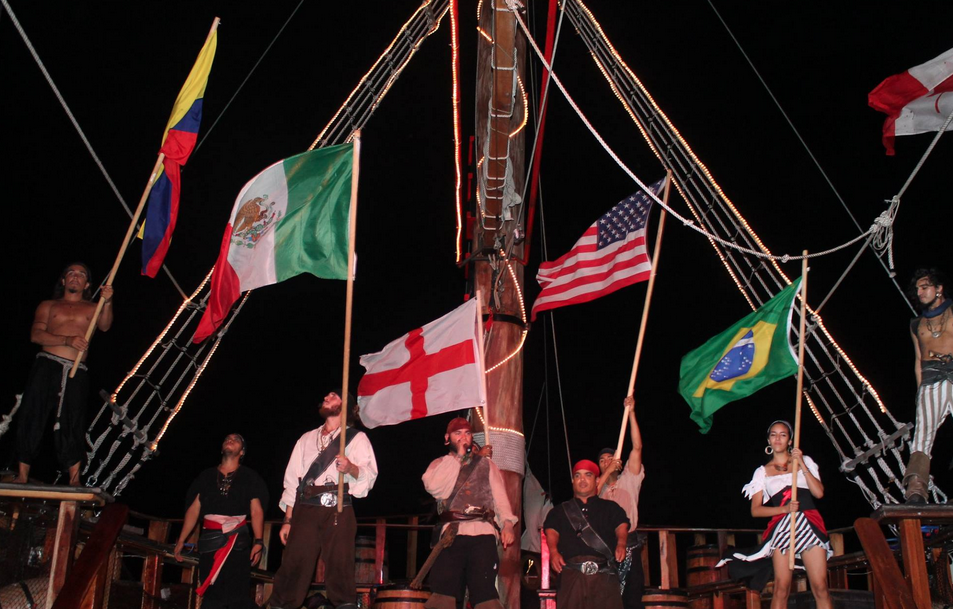 Cancun Live Shows
If you like to see live shows, then Cancun has a number of different options available. Many of the top hotels and resorts will provide entertainment and live shows for free, with some resorts boasting a specific program of live shows for guests. For music and dancing, some of the nightclubs have invited guest artists and live shows as well as concerts on the beach. There are also some specialized live shows like the Jolly Roger Pirate Ship Show, which you can enjoy every night of the week.
The Jolly Roger Live Show
The live show on the Jolly Roger pirate ship is based around the theme of pirates. From the moment you arrive to the port for your tickets, to the point when you wave goodbye to the pirate captain, the actors are poised in their roles to make you feel like you have indeed been on the pirate adventure of your life!
The Jolly Roger Cancun Live Show is one of the best in Mexico, providing excellent family entertainment delivered by talented actors, acrobats and performers. Like all good live shows, the Jolly Roger Pirate Ship Show adapts to its audience, gauging the number of young children, nationalities and generations to craft a customized live show for each audience that arrives. You can also arrange a private live show for special occasions such as bachelor parties or team building incentives.
Coco Bongo Live Shows
Coco Bongo is perhaps one of Cancun's most famous locations for live shows. You will not be disappointed with the Las Vegas style entertainment at Coco Bongo, delighting visitors to Cancun with live shows every night. You can see a number of excellent tribute bands and artists as well as incredible cabaret-style entertainment. This is a place where all members of the family over 18 can enjoy a great night out, from grandson to great grandma.
Other Cancun Live Shows
It is worth asking the concierge at your hotel about any seasonal live shows happening in Cancun. Many famous singers and bands come to Cancun to perform in live concerts and you might discover that your vacation coincides with your favorite artist. Likewise, Cancun is also renowned for live show beach parties and festivals.