Cancun is a great place to enjoy a booze cruise. The calm waters of the Caribbean Sea, the sunny weather and warm balmy evenings make a booze cruise in Cancun a fun choice for groups of friends, couples, bachelor / bachelorette parties and singles.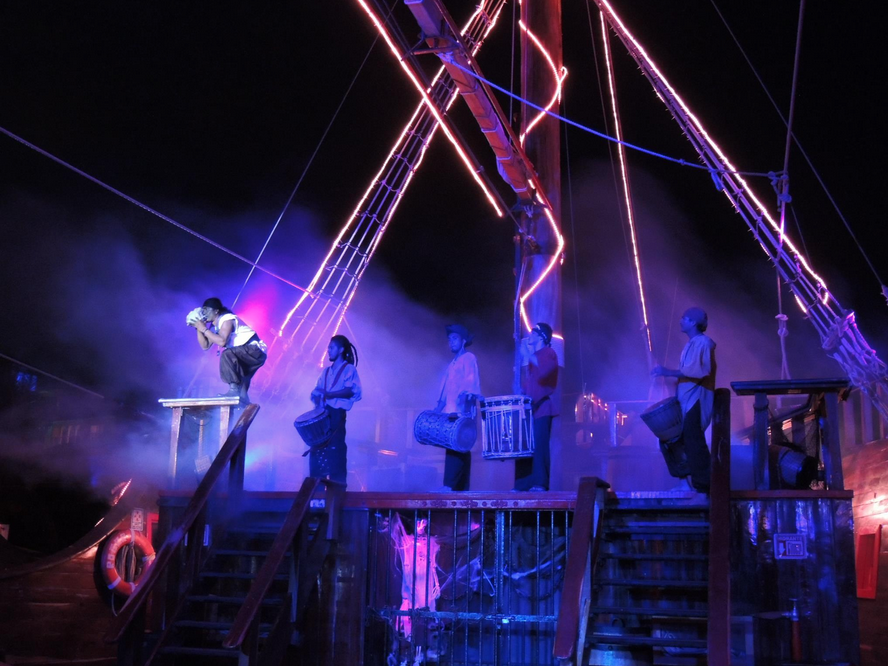 The Jolly Roger Cancun Pirate Ship Show makes a great booze cruise in Cancun. You can join the crew aboard Captain Morgan's pirate ship, the Jolly Roger, and drink yourself silly as you cruise along Cancun's coastline. Booze cruises are always lots of fun on vacation in Cancun, and yet, there is nothing quite like a booze cruise in Cancun upon a pirate ship.
The Jolly Roger Cancun Pirate Ship Show will make a booze cruise in Cancun experience all the more special and original with an incredible show and fireworks. You will watch pirates walk the plank with a bottle of rum, sword-fighting, rope swinging and acrobats as the pirate ship sails the Caribbean.
Available each night of the week, the pirate ship show booze cruise leaves from Playa Linda pier and takes guests on a crazy tour of Cancun's coast with an open bar and great food. You will dine from a great menu and will be served by your very own pirate waiter. Argggh! Your ticket aboard the Jolly Roger booze cruise includes all you can drink and a delicious meal, in addition to mesmerizing entertainment, laughter and dancing.
Don't miss out on Cancun's most spectacular booze cruise, the Pirate Show Cancun Jolly Roger.
Comments
comments